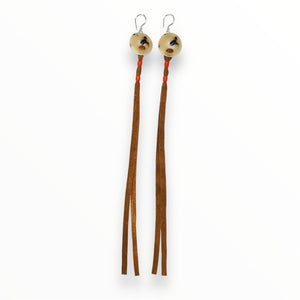 Tania Larsson
Extra Long Caribou Hide Earrings
Sale price Price $ 380.00 CAD Regular price
I traditionally tanned the caribou hide and cut long strips of it to make these ultra light earrings.
The hide is threaded through a muskox horn piece that was hand sanded and polished.

The ear wire is handmade with sterling silver.

These statement earrings are extremely light and are comfortable to wear everyday. They have a light scent of spruce smoke from the tanning process.
This piece of art was inspired by traditional Gwich'in caribou outfits.
Size: 31 centimetres long and about 2.8 cm wide.
Average Weight: 3-5 grams per earring.

Ships from the USA